Advanced Beginner Swim Class
Advanced Beginner Swim Class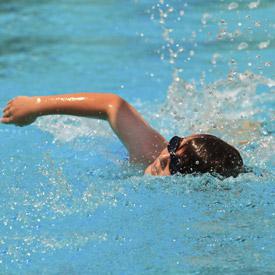 P J Meli Park Aquatic Complex
September 27th, 2021 to October 20th, 2021
6:00pm to 6:45pm
Class Days: Mon, Wed
Registration deadline: September 26th, 2021
Class # 6451
Class Level:
Advanced Beginner
Price:
$55.00Open to the public
This class is designed for children who have successfully completed the Beginner level. This level will build on the fundamental skills learned in the Beginner class. Some of the skills that will be worked on are rhythmic breathing with the front crawl, backstroke, breaststroke, and an introduction to the sidestroke. Some of the requirements to complete this level are the student must swim 25 yards front crawl with rhythmic breathing and breaststroke and 50 yards of elementary backstroke and backstroke.
Instructor Comments:
Attention Parents, classes may be subject to cancelation due to the weather. In the event that a class does get canceled. You will receive a phone call from the instructor or a voicemail will be left, if possible. Classes canceled due to the weather will be tracked and made up at a later date after the session is complete.
Sign Up Now!
P J Meli Park Aquatic Complex Swim Class FAQ
What do we bring? Swim suit and a towel.
How many kids are in each class? Minimum is three, the max is six.
How long are the classes? 30 minutes.
Is the pool open during lessons? Yes. All lessons are done during operating hours.
Is a lifeguard on duty? Yes.
What is the youngest a child can be to participate in swim lessons? Ages start from three years and up.
Is there a deadline to register for lessons? Registrations must be turned in three days prior to the first day of class.
If my child passes and I already registered for the same level what do I do? Ask to speak with a supervisor to move your child to the next level.
What happens if there is bad weather? We will cancel the class for the day and have two 45 minute classes.
Will my child have the same teacher every session? We will do our best to keep the same teacher throughout the session.
Are the classes based on age or skill? The classes are based on the participant's skill level.