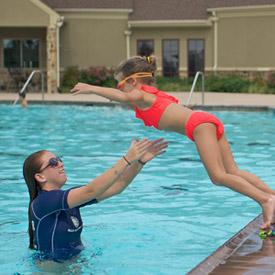 Swimming is probably the last thing on most peoples' minds considering the winter we are currently having. Warmer months will be here sooner than we know it. Nothing celebrates the return of sunshine more than having fun in the water.
Soon pools, beaches and water parks will be filled with people looking to beat the heat, enjoy the outdoors and get some exercise. Families can bond enjoying the water together. A great way to make sure everyone enjoys the water is by teaching kids to swim.
As a parent it's up to you to decide when children can begin swimming lessons. But they can begin as toddlers.
There are so many benefits of teaching children to swim parents should consider enrolling their children in lessons to help their kids respect water, overcome any fears of water they may have.
The most important benefit of teaching children to swim is that it saves lives. Swimming lessons greatly reduce the risk of drowning. According to the United States Centers for Disease Control more than 3,5000 people fatally drown each year. One in five of those victims are children aged 14 or younger.
Swimming lessons also make children aware other basic safety rules. There are other factors that can lead to dangerous incidents on the water, including:
Lack of supervision
Absence of fences and borders
Not wearing lifejackets
Children who receive formal swim lessons also learn about those life-saving water safety rules. In some cases learning to swim creates opportunities for children learn other life-saving skills such as first aid and CPR.
Learning to swim can help children with social development at various stages of their lives.
It has been noted that children who learn how to swim as babies are less timid in new and strange situations because it helps them learn independence. As children get older swimming can lead to other fun social activities like skiing, surfing and boating when they are teens and young adults.
Swimming also has many physical benefits.
Children who learn to swim from as early as the age of one or two years old develop strength, coordination and motor skills.
Swimming can help children avoid developing health issues. Regular swimming has been known to reduce the risk of heart disease. Swimming is an aerobic exercise that does not cause a lot of bodily wear-and-tear or too much impact on the joints. In fact, it helps people maintain their weight, wards of diabetes, and helps people manage stress.
Also later in life you can become part of a swimming club in school. Universities offer college scholarships to swimmers with the skills to represent the school on a competitive level. Coaches look for students with obvious talent and abilities but also solid academic achievement.
Some swimmers hit the big time. Some swimmers have become so famous that they become Olympic athletes, get major endorsements and occasionally their own television shows- for better or worse!
It just goes to show you that getting those first lessons can create endless
possibilities.