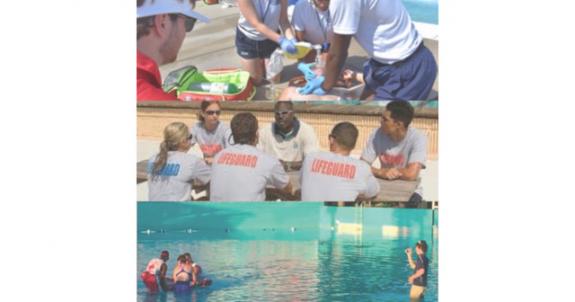 One of the many elements that make Jeff Ellis Management (and its sister company Ellis & Associates) stand out from other lifeguard training companies is its utilization of the auditing program. An audit is a form of accountability. In the aquatic risk management world, the unique and robust Ellis & Associates auditing program is designed to hold aquatics staff accountable and be proactive in preventing anything from catastrophic from happening to begin with.
There are two types of audits: internal and external.
External Audits
An external audit is an audit that is additional eyes on the lifeguards and aquatic managers when they think they are not being watched. These external audits are conducted by the Jeff Ellis Management executive staff or an Ellis & Associates International Staff Auditor. When an auditor arrives unannounced at an aquatic facility, they disguise themselves as a regular guest. The main objective of the external audit is to secretly video the performance of the lifeguards on duty. These audits are not meant to scare or have a "Gotcha!" moment with lifeguards…these audits are instead meant to showcase how they're performing as lifeguards on duty and see where there can be areas for improvement - if any.
Once videoing of the lifeguards is completed, auditors then reveal themselves to the facility's management staff and arrange to test the lifeguards on skills such as active rescues, VAT® drops, first aid, CPR, and spinal management scenarios. There's also an admin portion of the audit, where paperwork such as checklists, rescue reports, licenses, witness statements, et cetera, are inspected.
Internal Audits
Managers and leadership staff are the ones who complete internal audits at their facilities. The audits could be done on lifeguards and slide attendants, or even on the supervisors themselves. Most internal audits are mainly conducted on lifeguards – the "frontline" workers.
There are many forms of audits on-site managers can conduct. The main one that Jeff Ellis Management requires at all facilities is a certain amount of VAT® (Vigilance Awareness Training®) drops in the form of a sinkable manikin or a fellow employee disguised as a guest in distress in the water. Other audits can involve scanning, first aid, CPR, or slide operation. All of these are done at random, unannounced, and the lifeguard does not realize he or she is being audited until it is happening.
With these audits happening at any moment – just like a real-life emergency – keeps lifeguards and management on their toes and making sure they are meeting, if not exceeding the industry safety standard.
Audits are aimed to keep an individual and team accountable, boost their training and confidence, and prepare them for any type of emergency.
"Throughout my career, audits have been a great part of obtaining a snapshot of what is going on in our facilities when our upper management is not on deck. The audit process has allowed opportunities for praise, room for growth, as well as adjustments to the operations. Clearly, we would like to believe audits would result only in praise, but in real life, we are all a work in progress with room to grow." —Jill Steinke, Area Manager (Hawaii Region)