One of the biggest concerns for Jeff Ellis Management is aquatic safety. Our effort to improve the safety of aquatic facilities is demonstrated through our commitment to the International Lifeguard Training Program (ILTP). Nationally recognized and respected by insurance carriers, property managers, and medical professionals, the ILTP is a 24-hour training course that educates current and aspiring lifeguards the tools needed to handle every aquatic situation imaginable.
Why Train with Jeff Ellis Management?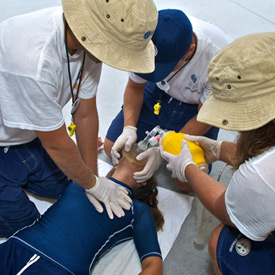 What makes ILTP unique is the implementation of real life experiences. We do everything we can to reenact actual situations so that the lifeguards we train aren't just physically tough; they're mentally tough as well. By using actual people, as opposed to training dolls and mannequins, lifeguards say they feel more confident and more prepared to go on duty upon completion of the course.
Our International Lifeguard Training Program has set the standard in aquatic safety. The lifeguards we train were the first to be educated about the use of Automated External Defibrillators (AEDs), supplemental oxygen, spinal injury mitigation, and current American Medical Association CPR procedures. Our lifeguards also receive training in first aid, poison control, lightening detection, wildlife hazards, pool management and sun protection.
Lifeguards who successfully complete the course receive a license that is valid for one year. However each one of the lifeguards we train can have their licenses annulled if they fail to meet specific standards during a vigilance awareness test (VAT® program) or during unannounced audits performed by experienced aquatic professionals. Lifeguards who wish to maintain their license must complete four hours of in-service training a month. Such requirements help keep our lifeguards on point and our guests safe.
Interested in becoming a lifeguard?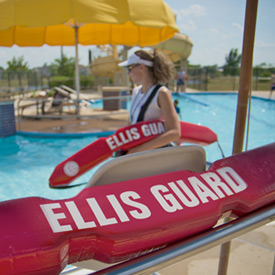 You'll be challenged. You'll be inspired. And you'll be proud. Because whatever your job is here, you'll be making a difference everyday in peoples lives.

Jeff Ellis, President, Jeff Ellis Management
Training Course
The course begins with a prerequisite screening process that includes a 200 yard swim, a two minute hands free tread, and the retrieval of a brick from at least 10 feet of water. Successful completion of the screening assures us the person is physically capable of handling a number of incidents should one occur while on duty.
Once a person is deemed physically fit for lifeguard training, their first test involves scanning methods. Our lifeguard training course teaches the 10/20 method, which says a person can scan a designated zone in 10 seconds and reach someone requiring assistance in 20 seconds. One of the most important parts of this exercise is teaching students how to identify distress signals. Once they are able to recognize behavior that indicates the need for assistance, students are trained in water-entry maneuvers, guest retrieval, whistle communication, guest assessment, guest extraction, and guest revival.
Contact us to learn more about our lifeguard training course.