Managing and operating a pool is a big responsibility as there are various laws and regulations that must be followed as part of pool compliance. Whether you're operating a community pool with a lot of activity or an isolated pool at a high-end resort, ensuring all compliance standards are met is a never-ending task.
That's why Jeff Ellis Management includes pool compliance as part of our aquatic management service. As part of our commitment to fully serve aquatic facilities, we gladly take on the responsibility of enforcing all national, state and local laws and regulations so that you don't have to worry about them. In addition to handling standard procedures, we make sure your facility adheres to all regulations pertaining to the American's with Disabilities Act (ADA) as well as the Virginia Graeme Baker Safety Act (VGB).
Our staff also ensures all proper signage, such as pool rules, are clearly visible and defined on your property. Water safety signs help avoid accidents and they're usually required by law. When you partner with Jeff Ellis Management, you can rest assured that even the smallest pool compliance standards are met with the highest level of importance.
Ensure your facility is compliant
Call us: (800) 742-8720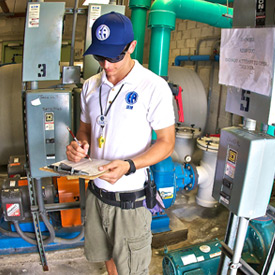 Request service
National Compliance Standards
Our trained and knowledgeable staff is kept up-to-date on the latest pool compliance laws, including those surrounding the ADA and VGB.
Americans with Disabilities Act - If you own or operate a public pool, such as a local community pool, the ADA requires it to be accessible for people with disabilities. If your pool was recently constructed or renovated there is a good chance it meets ADA standards and has accessible entrances and exits. However older pools typically weren't designed to accommodate people with certain disabilities and you may need to comply with ADA standards by installing pool lifts or sloped entry points. It will be our job to make sure your facility complies with the ADA.
Virginia Graeme Baker Safety Act - In an effort to reduce the risk for accidents, the VGB Safety Act sets requirements for anti-entrapment devices to be installed and maintained in all commercial pools and spas. VGB Safety Act regulations help protect swimmers, especially children, from getting trapped by the suction of pool drains.
Automated External Defibrillators - In some areas of the United States commercial pools are required to have AEDs. As part of our service to ensure your facility meets all pool compliance issues, we check to see if your pool needs an AED and we'll handle registration, maintenance, training, and more.
If you're worried about employing a staff that understands the importance of meeting pool compliance standards, look no farther than Jeff Ellis Management. Our team of dedicated aquatic professionals is fully aware of the laws and regulations for pools and we'll make sure your facility adheres to them at all times.