At Jeff Ellis Management we take great pride in the quality of our lifeguards. In addition to providing one of the leading lifeguard training programs available, we have implemented a lifeguard auditing process that further instills our commitment to excellent aquatic management. The auditing program isn't just designed to hold our lifeguards accountable; it also ensures the safety of your facility and its patrons. In case you're just now learning about our service, we work hard to make sure the quality of our safety guidelines is never questioned.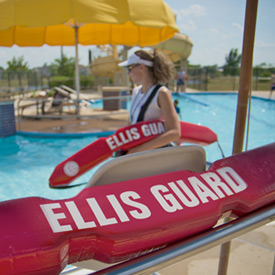 The unannounced lifeguard audit begins when a member of our team arrives onsite while appearing to be a regular guest. The biggest task for the auditor is to secretly film the performance of all lifeguards and facility staff members. Failure to remain discrete is a compromise to the audit. Once the staff has been filmed the auditor reveals him or herself to the facility manager and arrangements are made to evaluate the skills of all lifeguards on site. The auditor will grade the staff on skills like CPR, rescue techniques, and more from our lifeguard audit checklist.
Our lifeguard auditing process doesn't stop there. In order to make sure the entire facility is running as it should, the auditor will also review all documentation (sign-in sheets, maintenance records, accident records, witness reports, etc.) to ensure everything is in place and readily available.
This entire audit is created online using a tablet or smartphone in a secure access web portal we developed from the ground up. The auditor creates media rich reports containing photos, videos, grades for lifeguards, supervisors, managers, and the facility as a whole. Every Jeff Ellis Management client is provided with their own unique login credentials to this portal, which provides real-time access to every report created for their facility.
Lifeguard auditing is one of the many reasons why we're one of the most trusted and respected aquatic management companies. We strive for excellence and we expect the same from the staff we hire and the properties we manage.