Jeff Ellis Swimming is proud to offer swim classes for children of all ages. Each one of our classes is led by a certified instructor that will teach kids ages 3 and up the basics of swimming. Our goal is to offer a complete swimming program that does more than just teach kids how to swim: we want to help them become master swimmers. Whether your child is learning how to swim for the first time or wants to improve their stroke for competitive swim meets, rest assured they'll be in good hands.
As part of our commitment to providing world-class aquatic safety, each one of our swim classes feature lessons on being safe in and around water. One of our many goals is to improve the standards of aquatic safety and we want the children we teach to understand this importance. When you sign a child up for swim lessons through Jeff Ellis Management, you can rest assured that they'll learn about aquatic safety as well.
We offer the following children swim classes: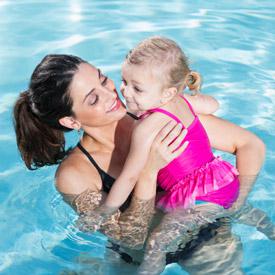 Does your child want to learn how to swim? Do you want to worry less when your child is around a pool? Allow us to introduce you to our Preschool and Parent swim classes. These classes help kids feel comfortable in the water with mom or dad by their side. We'll walk you through the basics of swimming while you and your child can learn together. We also introduce some of the most important water safety rules during these classes. Once your child feels more comfortable they can continue to work on their basic techniques without the assistance of mom and dad. Most of the students in these classes are between the ages of 3 and 5.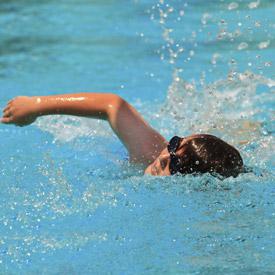 When your child graduates from the Preschool swim classes they'll be ready for the Beginner swim classes. The Beginner class builds on what they learned previously and prepares them for 25-yard swims of the following techniques: Elementary Backstroke, Front Crawl and Backstroke. An Advanced Beginner class is also offered as instructors will teach your child how to complete 50-yard swims of Elementary Backstroke and basic Backstroke. Since it's an advanced class, they'll also be prepared for 25-yard swims of the Breaststroke and Front Crawl with rhythmical breathing. The Sidestroke and Scissor Kick is also taught at this level.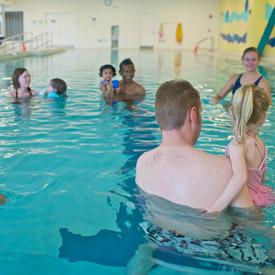 Water safety is very important at Jeff Ellis Management and that's why we encourage both kids and parents to attend our water safety seminars. Generally these lessons are geared for children between the ages of 3 and 10 and they're always run by a licensed lifeguard. If you want your child to learn about water safety and how to behave around a pool, this is the way to do it.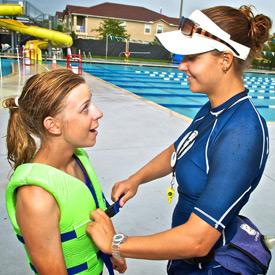 A lot of the kids that we guide through our swim classes have an interest in becoming a lifeguard and that's why we offer our Junior Lifeguard program. It's designed to show children between 10 and 14 what it's like to live the life of a lifeguard. Kids learn about rescue techniques, first aid and emergency equipment.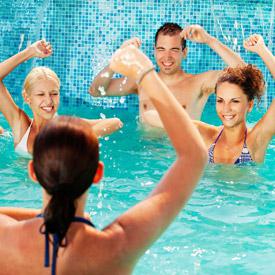 If your child has a competitive streak in them and they would like to compete against other swimmers, we have a Recreational Swim Team that they can join. It doesn't matter if your child is a novice swimmer or someone who wishes to compete against the best, there is a team that matches their ability. If your child want to take their swimming to the next level but doesn't want to compete, then maybe our Aqua Zumba class would interest them. It's a fun way to work out, stay in shape and make a splash!