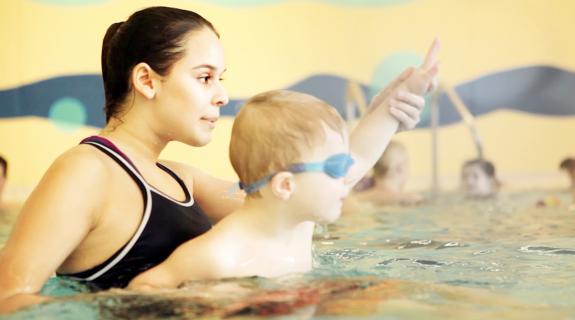 As an aquatic professional, you understand the priceless value of an individual having the lifesaving ability of swimming. If your aquatic facility does not currently have swim lessons or water safety courses available, you may have considered in the past to add one but never went through with it. Perhaps the reasoning for this was because adding a learn-to-swim program can seem so daunting.
Work with Jeff Ellis Swimming, and we will be with you every step of the way in helping you add our learn-to-swim curriculum with ease!
Now that you know adding our swim program can be done with more ease, you may be wondering, why should you add it to your facility? Though there are multiple reasons, there are two main reasons why you should.
Reason #1: Serving the Community
Having a swim program can serve your community by providing lifesaving water safety and swimming skills to children and adults who otherwise may not have had access to. Your facility could be the only aquatic facility within a large mile radius - or at least the few aquatic facilities in your local area that offer swim lessons. If this is the case, you are already ahead of the curve in giving your community an abundance of opportunities by offering different programs.
Most communities have younger families looking to keep their children engaged and interested in different activities. Even if the child already knows how to swim, the parent(s) may look to water safety programs, more advanced swimming lessons, or swim camps to keep their child active. Swim lessons are also a great way to get them started into acclimation to the water and into participating with other children around their age. Over time, your swim program can become a staple service within the community, and word will get around. With community support for both children and adult lessons, an aquatics facility can prosper and gain more traffic.
Reason #2: Gaining Revenue
Generating revenue can help your facility become more financially stable and continue to grow and offer more to the community. It may take time for your swim programs to gain traction, but once word gets out and individuals start referring you, your program(s) will blossom.
Revenue generated can be put back into the facility by offering more swim lessons because the facility can afford to pay to hire more swim instructors. Extra revenue you can spare can also go to the following:
Pay raises to swim instructors and program coordinators who have been with the facility for a long period of time. Not only will this help with employee retention, but your patrons/customers may have a favorite swim instructor and keep coming back to your facility solely because of a particular instructor.
Pay raises for instructors who teach private one-on-one swim lessons. This is where the money is at, and your swim instructor has to spend a lot of time building a relationship with their student to keep them coming back for more lessons.
Equipment for swim lessons. High-quality swim lesson equipment is ideal for any program. You want to continue to have professional-looking equipment to entice the participants to continue to utilize the facility.
And there you go! Adding swimming programs to your facility can seem daunting, but it does not have to be – especially with our help. Reach out to JES Director Jem Hughes with your interest today.