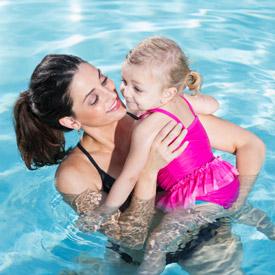 One of the biggest mistakes parents make when having kids in the pool is allowing too many distractions. Whether it's making drinks, playing games, watching TV, or socializing, we've all noticed kids getting a little too aggressive or playful while the parents are distracted. In fact, inattentive parents are one of the main causes of child injuries around pools.
Pool rules aren't just for kids. Parents need to follow their own rules as well and this is all part of a safe pool management system. Accidents happen all the time, but with proper procedures in place parents can significantly reduce the risk of injuries. In some cases parents feel their going the extra mile in pool safety, but really they're just placing their kids at risk. Here are a few examples:
The Use of "Floaties" or "Wingies"
Most parents tell young children to stay in the shallow end of the pool, but if the child has the courage to go towards the deep end, they can get there in just a few seconds. In order for parents to reduce their concern, they'll have their child wear floaties or water wingies (around the arms) to help keep them afloat wherever they are in the pool. Unfortunately such floatation devices may be doing more harm than good.
Although floaties will certainly help children swim, it can also give them confidence that places them in situations where they're uncomfortable. Children wearing floatation devices can easily wander into the deep end without even knowing it. If they manage to get out of the floaties and can't touch the bottom, the child may panic or even worse not be able to swim. When this happens, parents only have seconds to recognize the emergency and respond.
Forcing Kids into the Water
Teaching a child to swim requires a lot of patience. Jumping into the pool or learning how to swim is a scary adventure for a lot of children and it's important to take it slowly. However some parents don't have the patience that's needed and force their child to move at a pace that makes them uncomfortable. As a parent you want swimming in the pool to be an activity the child looks forward to, but it can quickly become something that's feared if you're not careful.
Parents should always let their children warm up to the pool in a way that makes them feel comfortable and safe. Simply tossing kids into the pool or pushing them in when they aren't looking will create feelings of fear and they may even stop trusting you. If you want your child to learn how to swim safely and effectively, swim lessons from a professional lifeguard is usually the best way to go.
Spotting Danger isn't Always so Easy
A lot of parents feel they have the instincts to know when danger is ahead but pool safety should never rely on instincts. Detecting the signs of drowning or knowing when to stop children from playing too rough is something that lifeguards are trained on and parents aren't always the best at stopping. Parents must be on guard at all times and should limit distractions as much as possible.