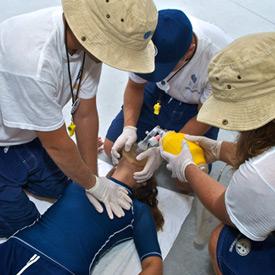 Managing an aquatic facility is a challenging task that comes with its share of risks and rewards. It's rewarding because kids and families commute to the facility seeking out fun and relaxation. However there are also risks associated with aquatic facilities and that's why there are pool safety tips that should never be ignored.
One of the biggest safety precautions that should never be taken lightly is CPR. Any pool management company understands the need for CPR and a certified lifeguard should always be on site during operating hours. If an injury or accident results in someone needing CPR, it is crucial that someone is present and ready to assist.
A common safety rule that is seen at most pools is a "No Diving" sign. Unfortunately it's also one of the most ignored rules around a pool. Diving may seem like a fun and risk-free way to jump into the pool, but there are a lot of diving injuries reported each year. Pool attendees may slip on the edge of the pool or even misjudge the depth of the pool. The "No Diving" sign may be frustrating for some, but it's there for everyone's safety and it shouldn't be ignored.
Pool security during non-operational hours is a big concern for pool management companies. Procedures must be in place to make sure the facility is properly locked each day. While you may not be able to stop someone from jumping a fence at night, you can lock gates and set alarms to warn off after-hour activity.
Another safety tip for pools is the installation of drain covers. Uncovered pool drains can potentially pull even adults below the water's surface. When it comes to pool drain covers, don't try to save money by purchasing the most inexpensive option. Buy a quality cover because it may be the difference between life and death.
If a public pool wants to reduce the risk of drowning, it is recommended to offer swimming classes that teach kids and adults how to swim. Hire lifeguards that are able and willing to teach classes to those who want to sign up. Swim classes are a great way to get people involved in the facility and it's one of the best safety measures an aquatic facility can carry out.
Experienced pool management companies understand the importance of maintaining the highest safety standards and never ignore a precaution that could potentially save a life.