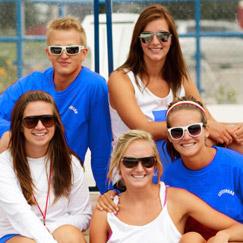 As we settle into the heart of summer and see pool attendance rise, it becomes incredibly important to maintain a strong staff. The last thing you want to worry about during the busy season is finding new lifeguards.
Unfortunately the beginning of summer is often a common time for lifeguards to put in their two week notice. In a lot of cases it is the direct result of school starting up again. Some lifeguards are entering their final year of high school and are too busy to keep a job. Others may be preparing for a new semester at college and are realizing that lifeguarding will take up too much time.
Whatever the case may be, it is important to do everything you can to keep your staff through the summer. Here are a few strategies that will keep lifeguards happy and encouraged to stay on board throughout the year.
Show them the Money
Lifeguards play a crucial role for public pools and they should be compensated appropriately. It requires specialized training and certification in order to become a lifeguard and that commitment should be rewarded through the pay they receive. By offering competitive pay and regular opportunities for raises, lifeguards will feel valued and appreciated. A happy lifeguard is a year-round lifeguard.
Establish a Reward System
Pool operators can never go too far in rewarding the lifeguards they hire. As the summer wears on, lifeguards need to stay motivated to come to work and stay alert. Proper compensation is a great place to start, but motivation doesn't always have to be money driven. Find ways to incorporate a reward system, which may be based on attendance, performance or even their ability to communicate with patrons. Consider naming a "Lifeguard of the Month" or rewarding employees with coupons to the concession stand. Employees that feel appreciated will want to come to work.
Encourage and Mentor
Most lifeguards tend to be on the younger side and for many of them lifeguarding may be their first real job. Because of their inexperience it is important to provide constant encouragement so they feel they're doing a good job. There is a good chance that they are relatively new to lifeguarding and need mentoring, but be careful to not confuse mentoring with demanding.
Just like any employee lifeguards want to learn and they like to be shown how to do their job. However it is crucial to not tell them how to do it. Showing and telling are two different forms of communication and lifeguards are much more responsive to management when they are being shown what to do versus told what to do.
Have Fun
Although lifeguarding is serious business, you want your staff to have fun. Whether it's through staff parties or events outside of work, encourage lifeguards to socialize and become a team. If you can build camaraderie and strong relationships, the lifeguards you hire won't want to leave and they'll return year after year. That's what great pool management is all about.