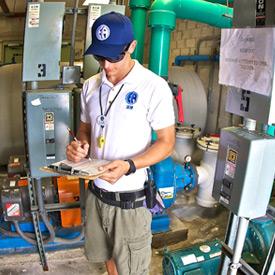 Public safety is the number one concern amongst commercial pool managers and lifeguards. Some of the most common safety concerns include drowning, diving and running around pools. However two other major concerns that aren't always remembered are air and water quality.
Whether it's because of neglect or poorly established protocols, not all pool managers are successful in maintaining safe air and water quality standards. That's why we're putting together a few safety steps to help pool managers be more successful.
However before we get into the steps of maintaining safe air and water quality, let's discuss some finding from the Centers of Disease Control and Prevention (CDC). According to the CDC, one in ten pool inspections around the country show pools are operating at improper disinfectant levels. While 10 percent may not seem alarming, just imagine if it was your pool that was reporting the problem.
Air quality should be one of the most important safety concerns for indoor pools. In some cases infectious organisms like Legionella can become airborne and cause concern in wet environments. However the most common air quality concern for indoor pools is chlorine. The smell of chlorine has the potential to be excessive, causing the nose, eyes and lungs to burn. Symptoms related to allergies are often experienced.
How to Improve Air and Water Quality
One of the first things you can do to ensure safe air and water quality standards are being met is to review the CDC's latest Model Aquatic Health Code, a set of guidelines for pool managers.
Other steps to keep in mind include:
Constant Water Testing – Water levels must be monitored daily, weekly and monthly. The obvious safety checks are chlorine and pH levels, but other tests that should be performed are those that monitor alkalinity, calcium hardness, iron, and copper. Accuracy during these tests are crucial and it's important to remember that all water samples should be taken at least six inches below the water's surface. If you think your testing kit is outdated, it's probably true. Test kits should be changed out annually.
Proper Filtration – All of your testing efforts will be lost if your pool's filtration system isn't operating properly. Make sure your water pump and filter is the correct size for your pool and remember to clean your filter on a regular basis.
Air Movement – Keeping the air moving and properly circulated is vital to maintaining safe air quality around indoor pools. Some of the most advanced air handling systems for indoor pools are utilizing large fans to direct air flow. Enhanced HVAC systems are also able to take bad air outside and bring fresh air inside.
At Jeff Ellis Management we ensure our staff considers every safety precaution imaginable in order to maintain safe air and water quality standards.