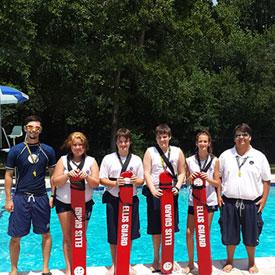 This summer the JEM Texas team set out to give back to the kids of our community. A specialized junior lifeguard class was conducted for five kids in the community who had expressed an interest in becoming a lifeguard. At the beginning of the class each participant was outfitted with JEM uniforms and equipment. JEM employees Michael Comfort and Zachary Shaw personally trained the junior guards in the life saving skills required to become junior lifeguards. These skills included CPR, the Heimlich maneuver, compact jumping off the lifeguard stands, water recuses, and 10/20 scanning. The goal of the training was to have the junior lifeguards trained well enough to respond to a guest in distress within the 10/20 standards.
After 5 hours of training the junior guards had mastered the required skills and were allowed a special opportunity to go up in stand, acting as support guards during normal hours of operations. Under supervision of Michael Comfort and Zachary Shaw these junior lifeguards performed and passed visual awareness tests (VAT), which are used to test both their vigilance and response time. By the end of the training each of the junior lifeguards had been up in stand and briefly experienced what being a JEM lifeguard is all about.
By successfully completing our training we've instilled a sense of pride and accomplishment in our trainees while teaching them valuable, life saving skills. We've also laid a solid foundation to begin recruiting our next generation of lifeguards. By training junior lifeguards we hope to see even more individuals interested in lifeguarding with Jeff Ellis Management in the future.