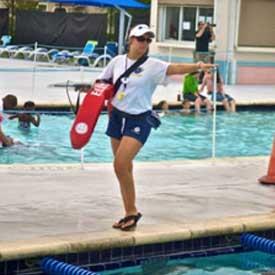 If it is your first time visiting a JEM or Ellis facility you may be confused as to why the lifeguards are standing up periodically and waving their hand in the air. This act is known as a five-minute rule and it is a crucial part of our guards maintaining their 10/20 standard and keeping the pool safe.
All JEM and Ellis facilities enforce a 10/20 standard which represents the time a lifeguard has to scan their zone in the pool, and then if need be, respond and make a save. The 10 being ten seconds to scan the pool and the 20 being twenty seconds to respond and make a save. This standard is paramount to our lifeguards and helps us maintain the company-wide goal of ZERO drownings.
To aid in maintaining our 10/20 standard we also implement a five-minute rule. This is the practice of every five minutes, having our guards stand up out of their current position, actively scanning their zone with their hand, and clearing their zone if they find no guest in distress at any level of their zone. This five-minute rule serves two purposes. It keeps our guards alert and attentive by requiring them to stand up and change their body position every five minutes while also requiring them to scan their zone in accordance with their 10/20 standard.
With both of these standards in place our JEM and Ellis facilities remain some of the safest facilities that you and your family can visit.