Submitted by

brandon.cook

on Oct 31, 2018-6:06pm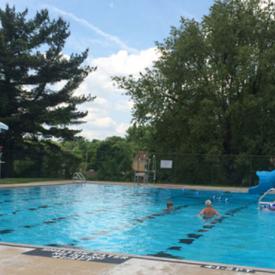 Baldwin Pool is another one of our facilities located in Western Pennsylvania. Baldwin Pool has been under the company's management since the start of JEMPA 5 years ago. The pool itself features a diving board, two chute slides, and a splash pad for younger kids. There is also plenty of grass surrounding the pool area allowing lots of room for playing or laying underneath the sun.
Recently, Baldwin Pool has gone through a large bathhouse remodel. This includes brand new men's and women's locker rooms, a new front desk area, the addition of two co-ed handicap bathrooms, large fun umbrellas out on the pool deck to provide plenty of shade. This is a great family friendly pool that would be great to visit during pool season in Western Pennsylvania.