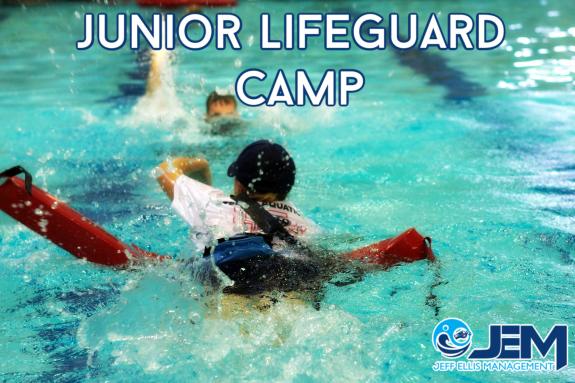 About
A junior lifeguard program is an excellent opportunity for aquatic facilities to potentially recruit future employees. If you are an aquatics manager looking for extra outlets to recruit strong candidates to be your future lifeguards, then looking into hosting a junior lifeguard camp is a smart outlet. If you are a parent who is looking to get your child into taking a fun summer activity to have them learn responsibility and confidence, all while gaining exercise and fun experiences, then enrolling them into a junior lifeguard camp is an amazing option as well!
The benefits of Jeff Ellis Swimming's Junior Lifeguard Camp program are endless; the student learns basic water safety skills as well as lifesaving skills such as CPR and first aid.
To appeal to a young audience and provide a fun learning environment, The Jeff Ellis Swimming junior lifeguard camp program is approximately 75% in the water and 25% on land. Rather than having an intense genuine lifeguard course, the junior lifeguard program camp course is meant to lightly cover all topics as taught in a lifeguard course to provide young students an idea of what it's like to be a real lifeguard.
Jeff Ellis Swimming Junior Lifeguard Camp consists of:
4 day instruction at 2 hours per day
All water rescue types
CPR skills
Basic first aid skills
And much more...
A junior lifeguard certificate upon successful completion
Age Requirements
The age range for the course are ages 9-14, however there can be some exceptions. Contact Jem Hughes for any questions you may have.
Overall Goal
As an expert in aquatics, the overall goal is to get your local community trained on aquatic safety and inspire young individuals to work for your facility as a lifeguard one day. As a parent, this is a great way to get your child outdoors, build some confidence and lifesaving skills, all the while making new friends who could very well be their future co-workers!