Community CPR & AED
Community CPR & AED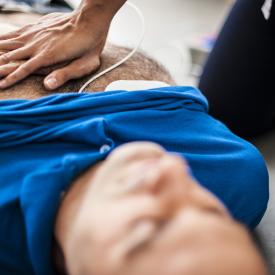 Jerry Resnick Aquatic Center
February 17th, 2018 to February 17th, 2018
9:00am to 11:30am
Class Days: Sat
Registration Closes: January 28th, 2018
Class # 2814
Class Level:
Community CPR & AED
Price:
$50.00Open to the public
Recognition and care for heart attack, stroke, breathing and cardiac emergencies, including the use of automated external defibrillators (AEDs). Duration: 2 hours Certification valid for 2 years.
Instructor Comments:
This is a blended learning course. You must provide a valid email address for this course. Digital student manuals are emailed to all participants prior to class. Please read your manual as it will help prepare you for the hands on portion of the class. Upon completion of the course, and passing the final written exam with an 80% or better, you will receive your Community CPR/AED certification for Adult, Child, and Infant. This certification is valid for two years. Topics covered in this course: *Introduction to Emergency Care *Assessing the Scene and the Victim *Breathing Emergencies *Cardiovascular Emergencies *Automated External Defibrillation
Sign Up Now!Registration for this class is closed!