Pool maintenance services often spend the majority of their time focusing on water clarity and overall pool cleanliness. While these are two important steps in maintaining a clean and safe environment for guests, we believe pool maintenance services should go well beyond the scope of standard procedures to include the management of pool equipment and inventory.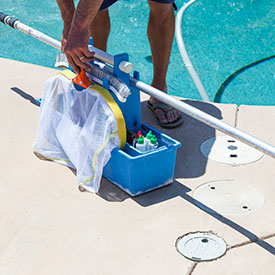 As part of our comprehensive maintenance package, our trained technicians are tasked with managing inventory and every piece of equipment connected to the pool. We see each commercial pool facility as an interconnected system of pipes, filters, pumps, heaters, drains, and so much more. It is important to stay on top of all of this equipment and make sure that all chemicals and supplies are available when needed. If a piece of equipment is broken or needs repair, we want to be the one to spot and fix it.
Maintaining pool equipment and inventory requires a high level of knowledge and organization. When it's done right it can save facilities a lot of money by prolonging the life of equipment. It can also save aquatic facilities from headaches that often accompany the time spent keeping up with it all.
Scheduled maintenance from trained professionals is the best way to protect pool equipment and keep up with inventory. For information on our maintenance packages please contact us at (800) 742-8720.