Algae growth is a year-round concern for commercial pool operators and that is why we list pool algae prevention as one of our primary pool maintenance services. It is rare for a pool owner to not deal with algae problems at one time or another. Even with constant monitoring and properly functioning equipment, algae blooms can still develop.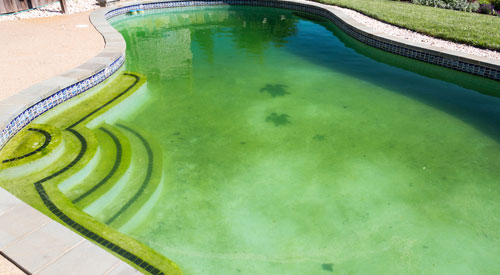 The most important step in pool algae prevention is stopping microscopic algae spores from becoming full algae blooms. Algae enters the pool through wind, rain and dirt. Swimmers are also responsible for bringing algae into pools through sweat and dead skin cells. It is impossible to stop algae from entering the pool, but our pool maintenance packages prevent blooms and keep your water looking clean.
How do we prevent pool algae growth? Our maintenance staff ensures your pool is operating at its best by performing the following steps:
Maintaining chlorine levels
Eliminating phosphate build-up
Making sure the circulation system is running
Scheduled brushing, skimming and vacuuming
And so much more
Regular maintenance is the key ingredient to pool algae prevention. Our full range of pool maintenance services will help keep your pool looking crystal clear while operating at its best. For information about our pool maintenance services please contact us at (800) 742-8720.