As part of our mission to provide commercial pool facilities with the most comprehensive maintenance services options, we offer everything from in-depth plumbing inspections to basic operating duties such as cleaning up on-site trash. Yes our maintenance staff makes sure your pool is crystal clear, but we also want to provide a clean and safe environment outside of the pool.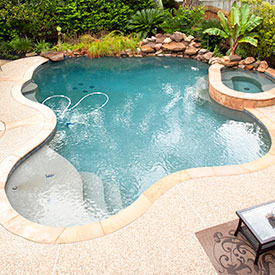 The overall cleanliness of your facility is an important factor in maintaining guest satisfaction. Picking up trash and removing debris from the pool deck is a must when operating a pool, but Jeff Ellis Management believes guest satisfaction begins outside of the pool gates.
Patrons want to arrive to a clean space and that requires maintaining the entire property. Whether it's picking up trash left behind by guests, cleaning up debris after a storm, or making recommendations to improve the overall look of the facility, our trained and certified staff does it all. Facility cleanliness is a major part of guest satisfaction and that is why we include it in our maintenance packages.
When you employ Jeff Ellis Management to help manage your facility, we promise you won't lose patrons as a result of poor upkeep. Contact us at (800) 742-8720 and we'll be more than happy to discuss our full list of pool maintenance services.