Jeff Ellis Management offers pool opening and closing procedures for facilities that don't have the luxury of staying open year-round. Whether it's the start of spring or the beginning of fall, seasonal pool preparations are a must. Our job is to make the transition easy so that you don't have to worry about all of the steps required to open and close a pool.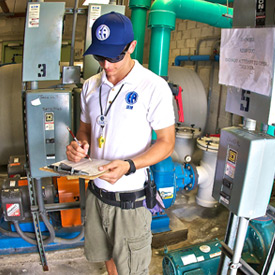 One of the first steps of pool opening procedures is removing the cover if one is in place. Our staff takes care of blowing off debris, cleaning the cover, and properly storing it until next season. Next we address turning on the pool pump and checking all pieces of equipment for leaks and corrosion. Our pool opening process also includes:
Backwashing the filter
Shocking the pool
Ensuring proper water level
Balancing chlorine, pH and alkaline levels
Brushing, skimming and vacuuming
Cleaning up areas around the pool
And much more
When fall arrives it's time to winterize the pool. Our pool closing procedures include:
Brushing, skimming and vacuuming
Draining the pool or lowering the water level
Removing water from pipes and equipment
Removal of handrails, ladders and fixtures if possible
Securing the pool cover
And much more
If you need assistance with pool opening and closing procedures, trust Jeff Ellis Management to get the job done properly. Please contact us at (800) 742-8720 if you have questions or would like more information about our pool maintenance services.