Preschool Swim Class
Preschool Swim Class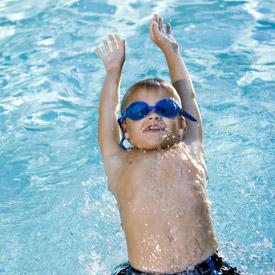 Jerry Resnick Aquatic Center
September 25th, 2023 to October 5th, 2023
5:30pm to 6:00pm
Class Days: Mon, Tue, Wed, Thu
Registration deadline: September 22nd, 2023
Class # 7018
Class Level:
Preschool
Price:
$50.00Open to the public
This class is designed for Preschool age children. Children will work on the basic fundamentals of swimming such as blowing bubbles, front and back floats, kicking, arm movements, and basic pool safety.
Instructor Comments:
PLEASE NOTE: Due to an upcoming pool project, swim lessons will be on a 3 week break. The scheduling of this project is outside of our control. This class is for children ages 3-5 years old with little to no swim experience. Next swim lesson registration will start on Monday, Oct 2nd. Reminder for all parents please don't change your children on deck.
Fully Booked!
Jerry Resnick Aquatic Center Swim Class FAQ
What do we bring? Swimmer should wear a bathing suit. No street clothes or basketball shorts. Swim cap and goggles are optional.
How many kids are in each class? There is a maximum of six swimmers per class.
How long are the classes? Our classes last for 30 minutes.
Is the pool open during lessons? Our facility is closed to the public during swim lessons. Parents and siblings can't be in any of our pools during swim lessons.
Is a lifeguard on duty? There is a lifeguard on duty before, during, and after swim lessons. No swim lesson participants can be in the water unless they are with their swim instructor.
What is the youngest a child can be to participate in swim lessons? The swimmer must be 3 years old to participant in swim lessons.
Is there a deadline to register for lessons? Our registration cutoff is the Thursday before the next session is about to start.
If my child passes and I already registered for the same level what do I do? If there is space in the current session, your swimmer will be moved to the next level. If there is no space available, your swimmer can be transferred to the next level in the next session.
Where do I go on the first day? The swim lesson entrance is our side gate to the facility. Once inside the pool area, there will be a coordinator there to greet you, and answer any questions you may have.
Do I have to stay and watch lessons? A parent or guardian must accompany their swimmer, and stay for the 30 minute lesson.
Where do I sit if I do stay? There is plenty of seating available around the pool area to view your swimmer.
What happens if there is bad weather? Since we are an outdoor pool, we do teach in the rain. If your lesson is cancelled due to lightning, our makeup day is always on Friday, same time as your normal lesson. If more than half the lesson was taught, no makeup class will be provided.
Will my child have the same teacher every session? Our swim instructors do vary from session to session.
Are the classes based on age or skill? Your swimmer is placed in class by age, but taught skills at a level to help them succeed.
I'm an adult wanting to learn how to swim, which class do I choose? On our swim lesson page, there is a level called "Adult". This class is strictly for anyone 16 years old, and up wanting to learn how to swim.
What is your refund policy? All sales are final once you pay for the lesson. Please take into consideration any vacations, or special events that would cause you not to be able to attend your classes. If illness or injury occur, we just ask that you provide a doctor's note, and we will transfer your swimmer to the next available session, or refund your fee. If there is a birth in the family, or death in the family, we will provide you with a transfer to the next available session. We do not transfer for female related issues.