Water Aerobics Swim Class
Water Aerobics Swim Class
Notice! Fermilab is a private pool for Fermilab employees only. Not open to public registrations.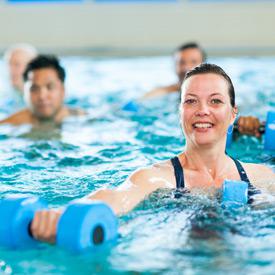 Fermilab Pool
June 5th, 2019 to June 26th, 2019
11:30am to 12:15pm
Class Days: Wed
Registration deadline: May 30th, 2019
Class # 5152
Class Level:
Water Aerobics
Price:
$33.00 Membership Required
This class will focus on strengthening of the core and back muscles, as well as, providing a low impact work out in the water. Class participants will utilize dumbbells to enhance the class.
Sign Up Now!Registration for this class is closed!
Fermilab Pool Swim Class FAQ
What should we bring? Your child will need a commercially sold bathing suit and a towel for each lesson. Goggles are recommended but not required.
How many children are in each class? The maximum ratio for the classes is one instructor to six children.
How long are classes? All classes run for 45 minutes.
Is there a lifeguard on duty during swimming lessons? Yes, there is always a lifeguard on duty during swimming lessons.
What is the age range for swimming lessons? We begin the preschool level at 3 years of age. Beginner lessons are for ages 5-10 years of age.
If my child passes to the next level, but I've already registered him/her for the same level, what should I do? We will do our best to accommodate any movement between classes, contact the program coordinator to discuss movement to the next level.
What happens if I've registered my child for the incorrect level? We do evaluate each child the first day of lessons to ensure that they have been placed in the correct level, and will make any necessary changes.
Where do I sit during swim lessons? If you are able to attend a encourage all parents to sit at a distance where they can still see their child, yet at a far enough distance to not be a distraction.
What happens if I miss a class? Unfortunately, we can only provide make-up classes if the pool is closed (and therefore the class is cancelled). We do not provide make-up lessons due to traffic, illness, vacation, etc.
Will my child have the same instructor every session? Due to instructors' personal schedules and the constantly changing enrollment, we cannot guarantee class schedules in advance. You are more than welcome to request an instructor; however, we cannot guarantee that request.
May I stay and swim at the pool during/after swim lessons are done? You may not swim as the pool is only open for programming at the time of lessons. If you have a pool membership you may return during operation hours or pay the daily admission rate.
Is there a refund policy? Please see the facility Coordinator for refund information.
If lessons are cancelled how will I be notified? We notify the daycare first to let all teachers know there will not be lessons, for all parents who do not have children dropped off at the daycare that given day the phone number on file will be called.
Do I have to be a Fermilab affiliate? Yes, you must be a part of Fermilab to enroll for lessons.