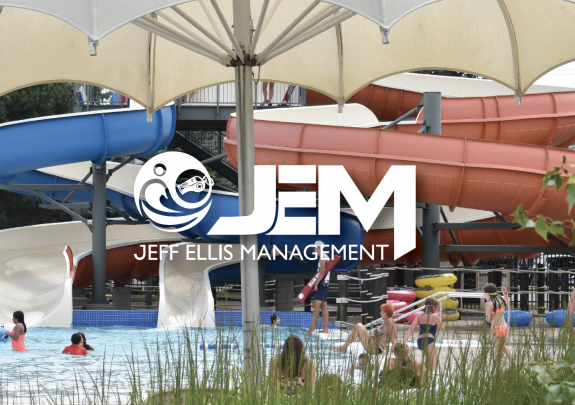 Aquatic Recruitment, Retention and HR Services
When hiring an aquatic management company like Jeff Ellis Management (JEM), one of the benefits your organization can rely on is our ability to recruit and retain team members.

JEM, as an aquatic management company and pool operations management company, takes the pressure of staffing off of our clients by actively recruiting for qualified individuals, training these individuals, and making them part of our JEM family. We retain these employees due to our family atmosphere and JEM culture. One way we actively live that culture is by offering monthly team events where team members get to know one another outside of the traditional work setting. This is great for team morale! Once we have hired employees to support your organization, we take care of the behind the scenes work from a human resources perspective; An aquatic management company like Jeff Ellis Management provides pool management services and that doesn't stop at the pool deck, we streamline services such as payroll and scheduling as well. The human resources skill set is one of the most beneficial services we offer to our clients.
Lifeguard Training & Guest Service
Are you looking for an aquatic management company that can offer the highest safety standards and outstanding guest service? Jeff Ellis Management is well recognized to provide both of these seamlessly to our clients. Our lifeguard training program is equipped to prepare team members to become first responders after the successful completion of our 24-hour course. They will be able to recognize and respond to emergencies following completion of our in-depth training program. This program includes the knowledge and use of equipment such as AED's and Oxygen administration. With continued training and accountability, our lifeguards will always be ready to recognize and respond. Our team members are not only trained to perform with an aquatic skill set but also a guest service one. As an aquatic management company, we treat your guests and their experience as a top priority. We will work together with you as our partner to provide the highest level of guest service and make their experiences positive, engaging, and exceed your expectations. If you are a lifeguard and looking for lifeguard jobs, or lifeguard jobs near me, we are hiring and provide training.
Pool Maintenance
As an aquatic management company, JEM's swimming pool maintenance services are one of our specialties. Our qualified pool maintenance technicians will monitor pool water quality, maintain cleanliness standards, and manage any filtration equipment needed to keep the facility running smoothly. Our technicians are highly qualified and maintain a CPO (Certified Pool Operator) certification. As an all-encompassing aquatic management company, we offer these CPO classes as part of our service to train our team members to care for your aquatic facility at the highest level.
We can assess maintenance problems, recommend solutions, and maintain equipment at safe and operational levels.

The partnership with Jeff Ellis Management as your aquatic management company has many benefits. JEM makes it convenient to get all aquatic services in one location, one phone call. Our safety and maintenance standards are a premium service that will exceed expectations while keeping your guests healthy and happy.
Our human resources division will take the hassle out of managing the team that delivers our high-quality safety and service.